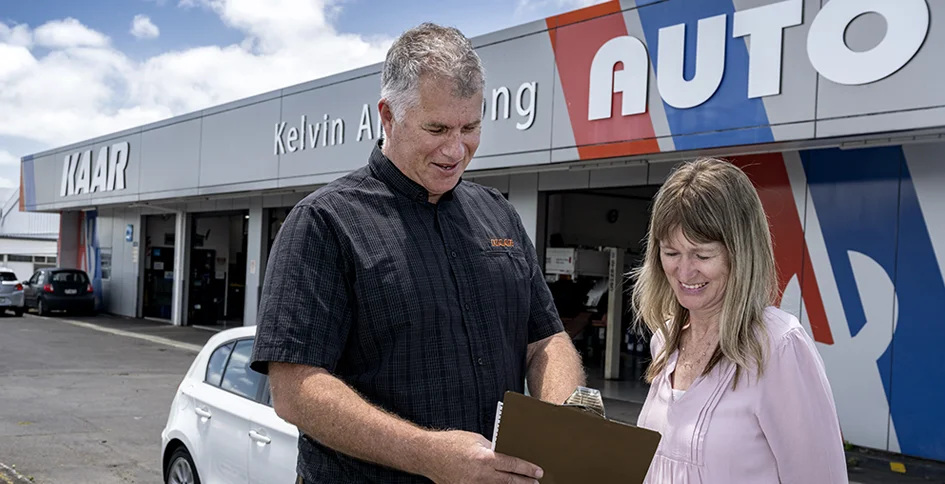 What is a Warrant of Fitness?
A Warrant of Fitness or WoF, is a general safety check to ensure that the vehicle you drive is safe to use on public roads. This is to ensure your safety, the safety of your passengers and the safety of other road users.
What a Warrant of Fitness is Not
A WoF is not the same as a pre-purchase vehicle inspection because it does not check things like engine reliability, cooling system functionality or whether the radio is working. In other words, a car may be safe to drive, but not necessarily reliable or have all the extras working well.
Where to get a Warrant of Fitness?
In New Zealand, you can get a Warrant of Fitness a one of two places:
A dedicated vehicle testing station such as VTNZ or VINZ.
A garage or mechanic that is registered to issue WoF's.
The advantage of going to a garage is that, in the event of something being wrong with your vehicle, the mechanic will often be able to fix it on the spot. This means you don't need to find a garage, have your car repaired and return for a retest.
What does a Warrant of Fitness Cover?
As mentioned above, a Vehicle Warrant of Fitness is a safety check. Your mechanic will have a checklist with a wide range of vehicle functions and parts that must be checked. To pass your WoF, each one of these parts must pass its check.
This article is about the car and light commercial vehicle WoF's. Included in a WoF check are the following:
Lights – all lights will be checked and must be working. This includes parking lights, indicators, brake lights, reversing lights and headlights. Headlights will be checked on both low-beam and high-beam to ensure they provide good lighting without blinding vehicles coming in the opposite direction.
Brakes – both the foot brake and the hand brake will be checked to ensure they are working correctly and, in the case of the foot brake, is able to stop the car within a certain distance.
Tyres – all tyres, including your spare, need to be in good condition with no damage. Your mechanic will also measure the depth of tread on your tyres. If the tread is worn down past the legal limit, the tyre(s) must be replaced.
Structural Condition – some rust is allowable. However, there are certain parts of a car where rust is not permitted. This includes areas where rust would affect the vehicle's structural integrity, e.g., the chassis.
Seat belts – the seat belts in your vehicle must not be damaged in any way. Every belt, front and back, will be checked. The buckles must work properly, and the retractor must be working to ensure it can lock in the case of an accident.
Doors – all doors must open and close safely.
Windscreen wipers – your vehicle's windscreen wipers and the washers must work.
Windscreen – your vehicle's windscreen must be safe. The mechanic will check for cracks or large chips to determine this. While small cracks and chips are usually acceptable, larger ones may result in a failed WoF.
Speedometer – the speedometer must be in working order.
Exhaust – your mechanic will check your car's exhaust system to ensure it is not leaking. Leaks can be dangerous, especially if escaping exhaust enters the car's interior. Neither can the exhaust system be overly smoky or noisy.
Fuel system – the fuel system must not have any leaks.
Steering and suspension – your mechanic will inspect the underneath of your car for rust and engine leaks. While there, they will check the steering racks and suspension parts to ensure they are working correctly.
Airbags – if airbags are fitted in your car, they must not show any evidence of damage.
What if your vehicle is modified?
All modifications to a vehicle must comply with WoF regulations. This includes window tinting (they must not be too dark), lowering of suspensions, and exhaust modifications. Your mechanic will be able to explain the legal requirements to you.
Is it time for your vehicle's WoF Inspection?
As mentioned previously, there is a real advantage in going to a mechanic for your Warrant of Fitness. A mechanic will give advice on aspects of your car's safety that may be marginal and, if the warrant is failed for any reason, will often be able to rectify the issue on the spot.
For more information on your vehicle WoF, or to book in for a Warrant of Fitness, contact us.