Book a Pre Purchase Inspection
Please allow a minimum of 2 business days. If you require a service sooner, please call us at 0800 522 734.
Pre-Purchase
Vehicle Inspections
You want to buy a car but know nothing about engines and electronics or any of that other mechanical stuff? That's where KAAR vehicle inspections can come to your rescue.
Why Use KAAR to Inspect Your Car?
A full pre-purchase vehicle inspection will give peace of mind and an assurance that you and the seller are getting a fair deal.
Each one of KAAR's auto- technicians is fully trained, and a part of an ongoing motor mechanic training programme. With years of experience and expertise, covering all manner of faults on all models and makes of vehicle, we know what to look for when inspecting a car, van, 4×4 or light commercial.
Here's How a KAAR
Vehicle Inspection Works
It's simple; you drop in in or arrange the seller to bring to our location. We'll go and give it a thorough, top to bottom, on hoist vehicle inspection. That includes pointing out the good features, and the not so good features.
If there are faults with the vehicle, we'll let you know. And, if there are repairs required, we can even give you an idea of what they will cost. It gives you bargaining power with the seller, and you can be confident that you're both getting the best possible deal.
How Much Does a KAAR
Pre-Purchase Vehicle Inspection Cost?
Just $195 Inc Gst. That's great value for the peace of mind an independent vehicle inspection gives.
Book online now or phone 0800 522-734.
What Does a KAAR Inspection Cover?
A KAAR vehicle inspection includes:
Exterior – we'll ensure all lights are working as they should, the bodywork is sound, and there is no evidence of damage that may indicate a prior accident.
Interior – we'll ensure all interior features of the vehicle are functioning as they should, including dashboard lights etc.
Underneath the vehicle – you can tell a lot from a detailed inspection of a car's chasis.  We'll ensure it is straight and shows no signs of damage or rust.
Brakes – we'll ensure both foot and handbrake are functioning as they should and that brake hoses and the overall braking system is functioning well.
Motor – it's not just about if a motor runs well; it's about the engine mountings and oil seals etc.  We'll ensure these are performing as they should and not showing potentially expensive wear and tear.
Radiator / cooling system – radiator hoses, thermostat, water pump etc.  We'll examine them all to make sure they are working well and that there are no surprises later on.
Exhaust system – catalytic converter, exhaust manifold, muffler; the names may not mean much to you but they all show wear and tear over time.  We'll check them over and ensure they are in sound condition.
Electronics / electrical system – battery, lights, dashboard gauges and lights; all get a thorough check as part of our pre-purchase vehicle appraisal.
Steering sytem – we'll ensure all parts of the car's steering system are safe and are functioning as they should.
Transmission / gears – whether it's an automatic or a manual, we'll inspect the car's transmission/gears and ensure it is functioning properly.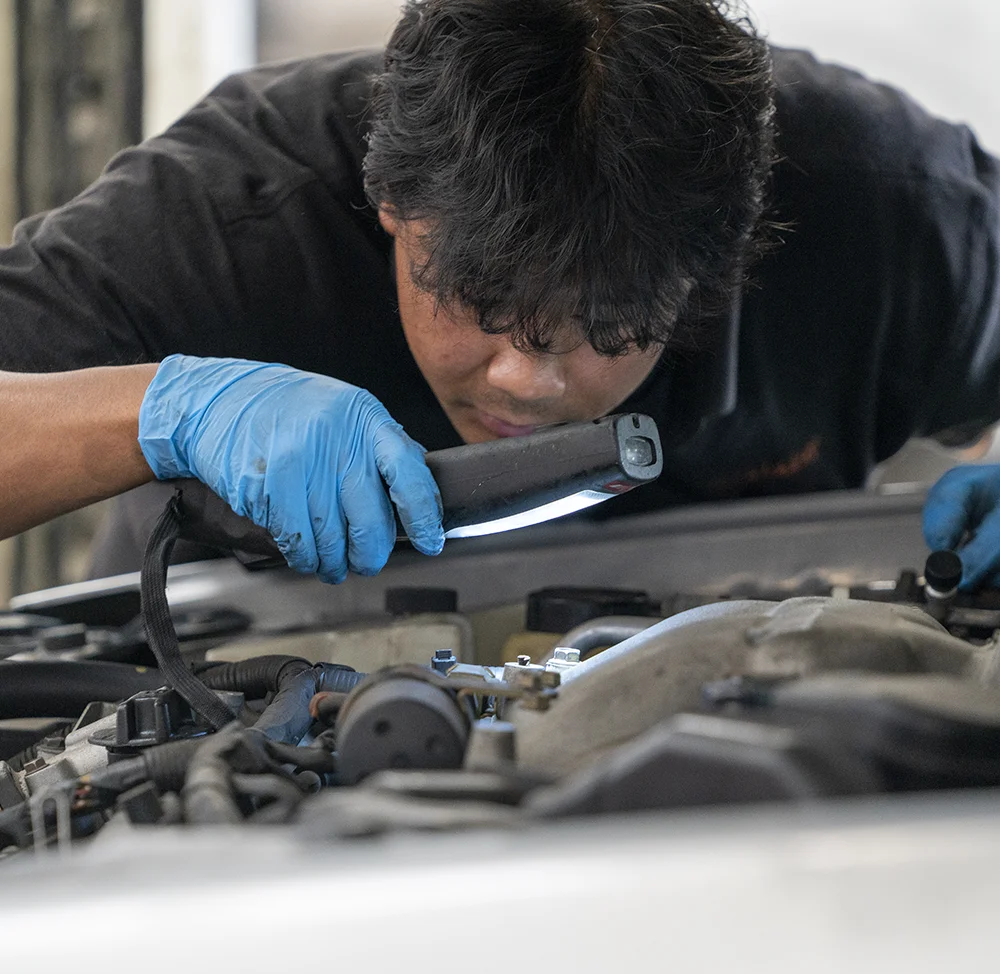 What Does a KAAR
Inspection NOT Cover?
While we can gain a very good indication of any faults a car may have, no inspection can provide a 100% guarantee. This is because, at an inspection of this type, we cannot dismantle and look inside mechanical components such as wheel bearings, crankshaft, pistons, engine bearings, etc.
What we promise is to identify any obvious issues or potential issues with the vehicle you intend to purchase.
Book online now or phone 0800 522-734.
Our business is caring
Committed To Quality
"With two convenient West Auckland locations, Henderson and Avondale, KAAR is the place to go for Auckland vehicle repairs. Our fully equipped vehicle workshops and professional team of service technicians."
Kelvin Armstrong