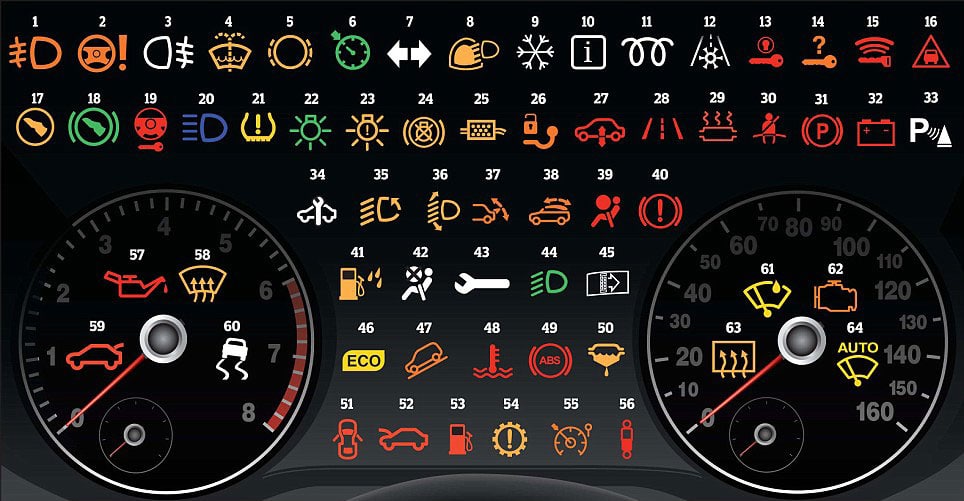 There are two types of warning lights – red and orange. A red warning light suggests that you should act quickly because the problem is serious, such as an overheating engine, low engine oil pressure or a braking system problem.
An orange warning light means that the engine management system – the computer that runs the engine – has detected a fault. You may continue to drive, but you should take your car to your local service centre for diagnosis and repair as soon as possible.
It's important to pay attention to car dashboard warning lights because they can help you avoid a car breakdown, as well as potentially saving you from an expensive repair bill and keeping you safe on the road.
The electronic system in today's cars relies on a series of sensors – these sensors can also tell you if there's something wrong with your car using warning symbols on the dashboard.
If a red or orange warning light appears on your dash, don't ignore it. Instead, pull over somewhere safe and look up what it means in your owner's manual.
If you're not sure what the problem is, give us a call or vehicle manufacturer for advice. If its hard to explain  may be hard to explain, take a photo and send to us.
If a light momentarily illuminates then disappears, there may not be a problem, but it is a good idea to get it checked out for peace of mind.
Fog light (front)
Power steering warning light
Fog light (rear)
Washer fluid low
Brake pad warning
Cruise control on
Direction indicators
Rain and light sensor
Winter mode
Information indicator
Glow plug/diesel pre-heat warning
Frost warning
Ignition switch warning
Key not in vehicle
Key fob battery low
Distance warning
Press clutch pedal
Press brake pedal
Steering lock warning
Main beam headlights
Tyre pressure low
Sidelight information
Exterior light fault
Brake lights warning
Diesel particulate filter warning
Trailer tow hitch warning
Air suspension warning
Lane departure warning
Catalytic converter warning
Seat belt not on
Parking brake light
Battery/alternator warning
Parking assist
Service required
Adaptive lighting
Headlight range control
Rear spoiler warning
Convertible roof warning
Airbag warning
Handbrake warning
Water in filter
Airbag deactivated
Fault problem
Dipped beam headlights
Dirty air filter
Eco driving indicator
Hill descent control
Temperature warning
ABS warning
Fuel filter warning
Door open
Bonnet open
Low fuel
Automatic gearbox warning
Speed limiter
Suspension dampers
Oil pressure low
Windscreen defrost
Boot open
Stability control off
Rain sensor
Engine/emissions warning
Rear window defrost
Auto windscreen wiping