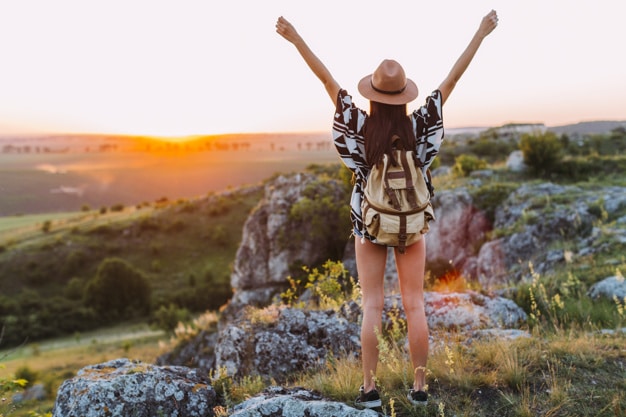 When you travel, it is best to keep it as simple as possible. You don't want the nightmare experience of lugging around too much luggage, trying to cram too many activities into each day, and generally being so stressed that you need a vacation…
"He who would travel happily must travel light." – Antoine de Saint-Exupery
When you travel, it is best to keep it as simple as possible.
You don't want the nightmare experience of lugging around too much luggage, trying to cram too many activities into each day, and generally being so stressed that you need a vacation when you get home.
Instead, simplify your travel with these helpful tips:
What to Pack
Packing tips are hard as they always involve a personal preference, so take the tips that apply best to your style of travel.
Pack light: Ask the simple question: "Do I want it or do I need it? If I need it, am I willing to cart it around?" There is little you really need when you travel.

Pack on the back: Travel with a light backpack. If you are moving between places, backpacks leave your hands free to hold other things.

Capsule wardrobe: Pack just a few clothes with only a couple complimentary, solid colours — no patterns. Black is a good idea if you need to be able to dress up and be casual.

Pick the essentials: Put everything you want to bring in a pile and slowly strip away things that aren't necessary.

Consider the technology: Do you really need your laptop, your phone, a tablet, an iPod, a camera, and a portable hard drive? Packing light does not only refer to clothes. Take the bare essentials when it comes to electronics and try to unplug for a few days.

Bathroom backup: Most toiletries can be found easily in your destination country, so don't panic if you forget something.

Consider destination pricing: If you are buying things in preparation for a trip, consider if they will be cheaper at your destination. Maybe hold off on buying things until you get there.

Book It: Bring one book, and when you're done, find a book-exchange and trade it for a new one.

Include a sarong: They can be a traveller's best friend. A sarong works as a towel, a skirt, a makeshift bag, a scarf, a sheet, or protection from the sun. The best thing is that they dry really, really quickly, even when it's humid.

Foldable Bag: Take a reusable shopping bag that folds up small. Slip it into your backpack or your pocket in case you buy something you need to carry.

Clean and fresh: Take baby wipes and lots of Ziploc bags.
General Top Tips
Don't travel with anything in your pockets except your passport and wallet. You won't have to dig everything out of your pockets every time you go through security. Make sure your wallet is in your front jeans pocket for security and health. Sitting on your wallet for a long period of time can put your back out of alignment.

Photocopy interesting sections of the guidebook so after you have been to see it, the copy can be recycled. Alternatively, get a digital copy of the guidebook.

Scan all of your important documents, then email them to yourself, or put them in cloud storage. If you ever lose your documents, you will have access to digital copies.

Don't pack clothing made from cotton, it takes a long time to dry.

Tip for quick drying: roll a towel over wet fabric and squeeze tightly.

Bring a small amount of foreign currency to cover incidental expenses upon arrival, then change the rest in your destination country. Exchange rates are usually more favourable at your destination.

Mail your purchases home as you go. This reduces what you must carry around with you, and what you have to list for customs.
On Planning and Doing
Getting to your destination is half of the fun, then what do you do once you arrive?
Don't overplan your trip. Keep your travel itinerary fluid, so that you can soak up the atmosphere in each place. Leave room to be spontaneous. When your plans don't work out as you thought, treat it as an opportunity to do something different!

Arrive at the airport earlier than you think is necessary — for domestic travel, try to arrive at least 2 hours before flight time; on international, make it three. This reduces the stress of traffic and navigating security. Besides, a relaxing drink before you board is a lovely way to start a vacation!

Take time for naps and relaxation.

Smile a lot and talk to the locals.

Eat, eat, eat and savour the flavours.

Prepare for security check-in: Wear slip-on shoes; don't wear a belt with metal; put the jacket or sweater in your carry-on before you get to security; have your electronics on the top of your carry-on along with the plastic zip-lock bag with your liquids so you don't have to search through your bag to find them (and then repack after you go through security).

Split your cash and financial assets up. Credit card in one pocket. Some cash in another. Some in a hidden backpack pocket. Some in your shoe. Some in a money belt. Then, go to the bathroom and enter a stall before taking cash out from any of these places.

Don't bring all your cash/credit cards when you go out. Leave some in a safe at the hotel, and leave the extra credit cards back home.

Get up early. In hot climates, this will help you avoid the heat of the day; in any climate, it will help you avoid the crowds and get more out of your day at a more leisurely pace. Equally, do the thing you really want to do first, so that you don't get distracted and miss out.