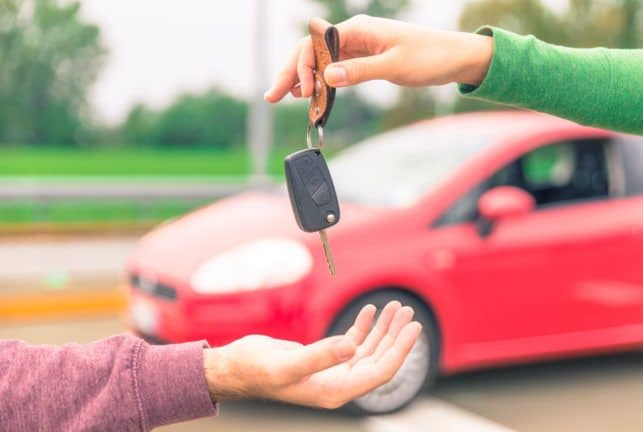 If you're going to sell your car for the best possible dollar, you need a little advice on how to make this happen. You'll learn about preparing your car, cleaning your car, servicing your car, how to price your car, advertising your car, inspections for your vehicle and other documentation.
1 – Prepare Your Vehicle For The Sale
Spend some time now on preparing your vehicle for the sale in order to make hundreds of dollars on your asking price. Remember that, like all things in life, first impressions do count. Walk in the buyer's shoes, asking yourself questions about the car:
How clean does the car look?
How recently has the car been serviced?
Are there any receipts that show servicing has been complete?
How reasonable is the asking price in terms of the age, make, model and condition of the vehicle?
What you consider important as a buyer is what you need to take with you when preparing your vehicle to be sold.
Clean Your Car
This may seem like common sense but you really need to put forth the additional effort of cleaning your vehicle, which means cleaning in those often overlooked places that you don't think of during your routine car cleaning.
If it's affordable, get the car professionally groomed – it'll bring you the same results as you doing the job.
Car Service History
Be sure you bring out all receipts for your vehicle repairs and maintenance. If you're able to handle the cost, have it serviced once more. Buyers will rest easy knowing you've got the documentation of the vehicle being serviced at regular intervals and do the complete maintenance at the manufacturer's recommended intervals.
Determine What Your Price Is
This is the time you find out how much your vehicle is worth, and from that, determine what your price should be. Make sure your price is realistic. Look at similar vehicles on AA Carfair to find the price range your vehicle falls into. This range will become your negotiating range.  You can get an AA Vehicle Valuation for $20, and it will provide you with an approximate fair market value.
Now figure out what your asking price is and what's the lowest you'll take for your vehicle. Should you have time to waste and can wait to have the best deal possible, do it. Your asking price may actually be the selling price. If you need to sell your car rather quickly, then it'll be lower.
Attain A Warrant Of Fitness
When you sell your car, you must have a Warrant of Fitness that's no more than 30 days old, unless you and the buyer decide to get out of this requirement. Attain your WoF from the AA.
2 – What You Must Do To List Your Vehicle To Sale
Vehicle Data
You'll need two kinds of information – car facts and features that will strike a chord with the buyers. Be sure to state the facts – year, make, model, body type, transmission, engine capacity, type of fuel, mileage, color and overall condition. You should also provide NZ new or imported, how many drivers, date of next WoF due and the date the next vehicle registration is.
Some features that will get their attention include: four brand new tires, recently serviced by manufacturer, roof rack, never been damaged, etc.
Be sure to include all information a buyer would find important. If there are any dents, scratches or damage, make prospective buyers aware of this.
Pictures
A better chance for you to sell your vehicle is to have pictures of it on hand in case anyone asks for it. Make sure the car is cleaned when you take the photos and get both the inside and outside. You want high-quality but under five megabytes pictures.
3 – When You're Selling Your Vehicle
Be Safe When Trading
There is no doubt that people are willing to scam you. AA Carfair has a stringent procedure to identify counterfeit and hoax vehicles and buyers. However, some of them can get through the cracks and appear to be the real thing. It's not uncommon for fake buyers to ask for another email address and for payment of goods using non-traceable means.
AA Carfair doesn't provide a facility that will verify transactions or pass information between the sellers and buyers. They don't act as an intermediary or set up or verify shipping arrangements. Users won't be emailed or taken to a shopping cart.
Learn about the person you're doing business with. Ask them for a name and phone number – call the number to ensure it's legit.
Don't respond to emails that ask you for credit card details.
Don't respond to emails that claim to be from AA Carfair that congratulates you for your vehicle being sold.
Don't accept any overpayment requests where you'll have to reimburse the buyer – this is a years-old scam.
Checking The Car Out
Be sure you position the car so the potential buyer can check out inside and out easily. Be sure you have all documents about the vehicle read, and know that you may be asked questions which you should give to the best of your knowledge. Allow the buyer to inspect your vehicle at their leisure – no rushing.
Test Drives
Most prospective buyers are going to ask for a test drive. Be smart and ask for their license. You want to make sure your insurance will cover them in case there's an accident. If you want to feel safer about giving them your vehicle, go with them. If you don't want to go with them, have them give you the keys to their vehicle as added security.
In-Depth Inspection
Most buyers will want to get a vehicle inspected after they've test drove it. The AA does offer this service. The process can be sped up by giving the AA inspection service information about the vehicle. If you're the seller, you can have the vehicle inspected to show would-be buyers the report.
Art of Negotiations
Now that the buyer has seen it, test drove it and had it inspected, they want to start the art of negotiations with you. You may have set your asking price, but they may want to haggle to see if they can get a better deal. How firm your price is and if you think their offer is reasonable is what factors into whether or not your car is sold.
Deposits
If a price has been agreed upon, the buyer will provide a several hundred dollar deposit.  Make sure you write out two identical receipts that lay out the vehicle in question and the agreed upon sale price, how much money is being accepted for a deposit and the date the full amount will be paid. If there are other conditions that were talked about, make sure you list them in this receipt. Both parties need to sign the receipts.
Payment
Before the keys are given to the buyer, make sure you're paid. This means the money is deposited into your checking account or, if it's a smaller transaction, paid by cash. A typical payment method is direct credit. What's a direct credit? It's when payment is made from the buyer's bank account into your account.
Never accept personal checks. If you try to cash it, it could bounce.
4 – Documentation
Purchase Receipts
You need two copies of all receipts whether it's the deposit or the full amount. Make sure the car is fully described, how much the purchase amount is, the purchase date and the name and address of the buyer and seller. Both parties needs to sign these copies.
Change Of Hands (Registration)
Ownership registration lays out who is now accountable for the car – licensing fees and fines. In order for the buyer to take possession of the vehicle, the seller and buyer need to fill out a change of ownership document. You can do this through the NZTA website.
The seller will also need to fill out the Certificate of Registration form whereas the buyer needs to fill out Form MR13B. You can find these forms from an NZTA agent such as AA WoF testing stations or AA centres or do it online https://www.kaar.co.nz/why-kaar/online-resources/. The buyer needs to fill out and turn in the MR13B and provide a receipt to you before you hand them the keys. They can complete this before the purchase is done and they take on the fines and fees associated with the vehicle.